Home With The Lord
Subscribe to posts
(click on image for obituary)
Dear Faith Academy classmates and friends,
It is with great sadness that I bring the news that Gordon Newell passed away last Saturday, July 11, in Seattle.  Gordon had a brain aneurysm on Thursday (approximately), was taken to Harborview Medical Center, where he suffered a massive heart attack.  Then his organs began failing and he passed away on Saturday.
I talked with his sister, Kathy, class of '73, briefly on the phone this afternoon.  She wasn't sure when Gordon's daughter would be coming to Seattle from Edmonton, Canada to pack his belongings and take them and his body back to Edmonton.  Kathy isn't sure if she is coming down to Seattle at all, herself.  My heart just goes out to them because they are so alone in this world…Mrs. Newell passed away in the early '70's and I don't know for sure if Mr Newell is still around.  But apparently, if he is, he's too frail to come down to Seattle at this time.
I talked with Gordon one year ago right now when he called to tell me personally that he would not be attending the reunion that was in Newberg, OR last July 31 – August 3, 2014.  He just felt no longer connected to anyone at Faith.  No longer felt a part of that group.  In fact, he really had detachment issues ever since childhood, and felt attached to no one.  We talked for over one hour and I shed lots of tears.  I don't know if he was crying or not.  All that to say, I REALLY wish Gordon and Kathy's Faith Academy and Wycliffe family could come around them at this time and show them HOW MUCH they all meant to us and how endeared they were to our community in the Philippines.
I have access to a large home in Edmonds, WA where I could host a Gordon Newell Memorial weekend in three short weeks—July 31 – August 2.  Is there any chance that any of you could come and hang out with Kathy and hopefully, Gordon's daughter, and show them love and pay your respects to Gordon?  Your main expense would be your flight.  Then possibly I could get a couple of you to help me with food expense.  I could arrange to pick anyone up at SeaTac airport and provide all transportation.  Please let me know what you think ASAP.
With love and deep caring,
Helen Eyestone Peterson
Nan Boesel completed her earthly journey and entered heaven a little before 
midnight
 this past Friday evening the 19th of June, 2015.  For those of us who've known Nan personally we've been deeply enriched by her life and journey with the Lord Jesus.
A memorial service for Nan will be held Saturday, June 27th at 1:00 pm at Village Seven Presbyterian Church in Colorado Springs.  The family invites all within the One Challenge family to attend this special gathering.  
Thank you also for joining me in praying for Don, Jeff, Scott, Chris and the extended Boesel family during these tender days following Nan's passing.
Sincerely,
Ralph Anderson
FROELICH, ALEX                                               March 15th, 2015
FRO
ELICH, Alex Ludwig, 78.
On the eve of April 3, 1936, my mother started into labor while millions of Americans were glued to their radio sets. My parents, immigrants from Germany, had decided on a name for their first child, if it were a girl, Alexis (after a well-known movie actress,) and Bruno if it were a boy. The kidnapper of Charles Lindbergh's young son was tried, convicted and now millions of Americans were listening to the countdown of the execution of Bruno Hauptmann. At 9:59 the next morning, I was born in Jersey City. They named me Alex. I grew up in East Orange, N.J., later spent two years at the University of Richmond, in Virginia, and then graduated from Nyack Missionary College in N.Y. Although religious in upbringing,
I never understood the depth of God's love and the significance of Christ's death for me 'til coming under the hearing of the Gospel in my college days. What a change occurred as I experienced the truth of a man in Christ being a "new creation." The darkness of my sin was overcome as light flooded my soul and life took on new meaning. Through the ministry of IVCF, I also became aware of a desperate world's need for the Lord, especially those who had never heard of His love. I responded to the call of the foreign mission field and prepared to go. While at Nyack I met Carol and we were married on October 22, 1960. We left for Palau in the Pacific Islands on Dececember 1 and stayed there six years. Through the years we sailed in small boats on rough seas, trudged through tidal flats and on slippery jungle trails, established an accredited high school and counseled and helped American missionary kids negotiate their teen years at Faith Academy in the Philippines.
After 25 years we then served in various ministries in Virginia. Amy, Kurt, Eric and Annie were gifts given to us by God. Each one has had a special significance to us, with delightful, unique personalities and also with a common love and compassion for people and a deep love and commitment to the Lord. They have inspired and energized us with their godly insights and examples. Together with mates Tad Blackburn, Gwyneth, Kristin and Dave Abernethy, they have faced tremendous challenges in life and have come out victorious in Jesus. Many of our 13 grandchildren, ranging from the ages of 15 and 32, are highly motivated and intent on making an impact on a world in dire need of love and the Gospel. Carol has been that particular bright and strong human influence that has brought such joy to us all. During times of physical and spiritual danger she remained steadfast, often a sense of humor making the difference - just the kind of companion one with a temperament like mine needed! Her desire to share was something to behold - Winsome Warrior! Through the years my brother, Lou and his family in Connecticut, have been loyal and supportive, even though our lives have been separated by such distances. We both have happy memories of our early years and the wonderful parents who provided so well for us. The Scripture says that "the light shines in the darkness and the darkness has not overcome it." In the ministries of my life, I admit to times of fear and difficult challenges, but never doubt. The Word of God and the Holy Spirit always reminded me of the ultimate bright outcome of the details and destiny of the Christian life. The influence and examples of colleagues in service and believers in my church were crucial to my ongoing spiritual growth. Light always ensued as God's purposes were unfurled and encouraged me to greater trust for whatever lay ahead.
I departed from my earthly life on March 12, 2015. I now reside in that kingdom of light that we have all heard so much about and yearned for. Be assured that what we have read about this realm doesn't adequately express the Reality. The Godhead, innumerable angels and the ransomed family of God immediately welcomed me to the fold. Long-lost friends are here. All is joy, praise and adoration of the Lord Jesus Christ. And He reminds you all that He has prepared a special place for you! When you trust and commit to Him as your Savior and Lord, His light will shine into your soul, scatter your darkness and give you an assurance of spending eternal life with Him in this unspeakably glorious and eternal heavenly home.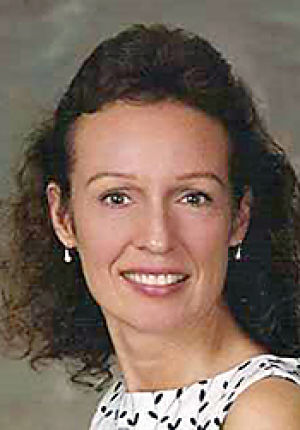 Laura German Coniglio, wife, daughter, sister, nurse and Siberian Husky mother passed from this life on Wednesday, January 28, 2015. Born in Manila, Philippines on October 28, 1954 to missionary parents she spent her youth exploring the islands of Luzon and Palawan and developing a lifelong love of the country and the Philippine people. Laura was a nurse at Bryan Hospital for 29 years. Being a nurse provided her with an avenue to use the God given gifts she had; empathy, compassion and caring.
At 6:14 PM August 14, 1983 Laura met her love her soul mate, her husband, Ron Coniglio. They married on December 22, 1984. Through 30 years of marriage they laughed together, travelled together, sailed together, worked, played and cried together. She loved reading, exercising, being read to, being with her friends and family. Laura especially loved raising her three Siberian huskies, Ayla, Esa and Maya. Laura and Ron could be seen in all types of weather joyfully walking their four-legged children. The gift of love that she gave to her husband over those 30 years and up to the moment of her passing is beyond measure.
An active member of Westminster Presbyterian Church Laura knew Jesus Christ as her Lord, Savior and her salvation. As a newly installed deacon at Westminster Laura enjoyed her participation in leadership and small group settings.
Laura is survived by Ron and Maya, as well as her mother, Leola German of Phoenix, Arizona, Karen German Strouse of Phoenix, Cal German of Omaha and Doris German of Saguache, Colorado.
A celebration of love is planned for Laura this coming April when the grass is green, the flowers are up, the leaves are out, and the world is reborn. A notice will appear in this venue. Please donate any memorial gifts to the Pieloch Pet Adoption Center.
We received word that Len Brooks, a former staff member, has passed away. He and his wife, Esther, served at Faith
from 1960-1971 and Len was instrumental in obtaining the present property where Faith Academy stands. This photo is Len with his daughter, Kathy (Brooks) VanDuzer. The following is from his niece's (Joyce Brooks Hardisty) Facebook post:
Heard this morning that one of our mighty men of God Leonard C. Brooks (my Uncle) went home to be with His Lord…. that would have been on Friday, in New Jersey.

Uncle Len followed faithfully in the godly footsteps of his missionary parents, Cyril and Anna Brooks. He leaves behind his lovely wife, Esther Brooks, and almost all of his kids, his grandkids, his great grandkids, as well as his brother, Ken Brooks, (my Dad) and his sister, Rose Brooks, not to mention all the rest of us. We do not grieve as others do because we KNOW that we will see Uncle Len again in glory.  
Uncle Len is now dancing with his "Cinderella", his oldest child, Nancy Brooks Mehorter who went home to be with the Lord in April of 1991. 
On Tuesday, January 15th visitation will be from 3-5 pm with the funeral service at 7:30 pm. Both services will be at Bethany Bible Chapel, 2341 Church Rd. Toms River. A graveside service will be conducted on Wednesday, January 16th at the Fairview Cemetery, 1100 East Broad Street in Westfield. In lieu of flowers, contributions may be made to Christian Missions in Many Lands. 
Bonnie Carvey and her husband, Vern, both served on the Board of Trustees at Faith Academy and were parents to Tim '70; Chuck '72 and John '74.
Email received on September 17th:
"My Mother passed on to heaven at 3 pm on Tuesday, September 11, 2012. I wanted you to know so you can pray with us for grace during this time and celebrate her life. My brother, Chuck, wrote the following notice and it expresses my thoughts and feelings as well. Blessings, John Carvey"
Dear Friends,
This afternoon (9/11/2012) at about 3pm, my Mom, Bonnie Carvey, was blessed by the receipt of her heart's desire. She has moved from Denver, Colorado, to Heaven itself. Many years ago, she passed from death to live in Jesus Christ. During the years since then, she has come to know God better and been freed from the power of this world's systems. Now she is free from the very presence of sin and is in the presence of God Almighty and her older brother Jesus, the Christ.
Although I don't have the exact address, her new home is a mansion prepared just for her. She is catching up with Vern, her husband of 40 years, her brother Clyde and sister Claudia and many others from both recent and ancient times.
She lived her last days as all the rest, ministering to those around her. She celebrated with her AWANA co-leaders on Saturday, testified to her physician on Sunday, and spent time with her family. She has lived her life as a godly woman; allowing others to come to an understanding of what that looks like in today's world. I will miss her, as will many others whose lives she has touched. The blessing she has bestowed will remain eternally. I know that I will see her again and that there will be no end to our time together.
Please join with me as we cry a bit – for we miss her. Also join me in celebration of her new life, in her new home, in a new land where there is no sadness or pain. Thanks!
We have scheduled a memorial service for my Mom, Bonnie Carvey. It will be held at the Cherry Creek Presbyterian Church (10150 E.Belleview Ave, Englewood, CO 80111) on Wednesday September 19, 2012, at 10:00am. A reception will follow with light refreshments. There will be a viewing on Tuesday, September 18th at the Dewitt and Tabler Funeral Home (12114 Grant Circle, Thornton, CO 80241) from 5:00pm to 8:00pm.
Many of you have already called or emailed us and we really appreciate all your tenderness and support. By Saturday morning, my brothers and I will have a web site available for you with some remembrances posted. We invite you to share with us and others who knew and loved Bonnie by posting a note at:  www.bonnie.mornstartech.com
Sincerely,
Chuck
Tim, Chuck, and John Carvey for Bonnie Carvey
The Lord Jesus Christ called John Lingenfelder, former Faith Academy band director (1983-1990) to join him in Glory at 5:50 p.m. on Sunday, May 22, 2011. John lived a full and blessed life to his final breath, whispering "Victory…victory in Jesus" and then mouthing the words as his family sang it with him.
John and Kay served at Faith Academy from 1983 until 1990, when the Lord brought them back to the Midwest and called John into pastoral ministry. John was most recently ministering in New Life Church in Clarkfield, Minnesota upon his home-going. 
John is survived by his wife Kay; his son Christian and wife Amy (Volkmann) Lingenfelder and their children, his son-in-law Joshua and wife Bethany (Van Goor) Aberle and their children.

(John cooking with one his grand-daughters, C.J.'s daughter)
He was preceded in death by and his daughter Sarah Kay (Lingenfelder) Aberle (F.A. Class of '97).
Dr. William (Willie) Pearson, 63, went to be with his Lord and Savior Jesus Christ, February 22, 2011, after a courageous year-long battle with cancer.  In the 1980s, he and his wife Mallory, served at Faith Academy with Wycliffe Bible Translators.  He was a teacher and administrator at Faith Academy.

Thoughtful and chivalrous, Will was truly a Virginia Gentleman.  His sweet tenor voice and his quick wit will be sorely missed by friends and family.  Deeply mourning his loss are his beloved wife, Mallory, son Will Pearson Jr (F.A. Class of '88), daughter-in-law Sherry M. Pearson, daughter Charlotte T. King (F.A. Class of '89) and son-in-law Jonathan D. King (F.A. Class of '91) and four grandchildren.

"Therefore, the redeemed of the LORD shall return, and come with singing unto Zion; and everlasting joy shall be upon their head:  they shall obtain gladness and joy; and sorrow and mourning shall flee away." - Isaiah 51:11

Many in the Faith Community have been praying for Daniel and Rebecca (Holmes) Stringer (both '99 FA grads)  and their parents as they have been caring for 18 month-old Vincent Stringer in his battle with liver cancer.  Rebecca wrote in their caringbridge journal that Vincent "passed from this world to the next, Saturday night (November 20), around 8:25p.m."  

http://www.caringbridge.org/visit/vincentstringer/journal

~ Please remember the Stringers and the Holmes families in your prayers at this time.
Please be in prayer for the Ashton family. Stephen Ashton (F.A. Alumni, Class of '96) passed away suddenly in November. His death resulted from a fall he took during a basketball game. Stephen was a student at Faith from Kindergarten through 8th grade. His parents are Alan and Edna Aston, OMF missionaries from UK. His sister Sandra (Class of '94) attended Faith through her Sophomore year.  Steve's wife Jenny is expecting their 3rd child.

************************************************************************************************************************************

I'm Sandra Pell nee Ashton ('94).  We have just had [Steve's] funeral and it was an amazing tribute to him. The tributes spanned his life from a baby born in the Philippines through his success as a basketball player and ending with the true love he had for his wife and kids.